The Maydays team formed back in 2004, though the individual members of the troupe have been improvising for much longer than that. They spend their time equally between performing improvised comedy and improvised musicals and delivering improvisation-based training and development for organisations and individuals.
The Maydays have delivered training to some of the world's top organisations and Fortune 500 companies and frequently travel around the world to do so. If not, you can often find them individually or collectively guest starring in improv festivals, most recently in India, Finland, Spain, America, Portugal, Spain, Scotland, Belgium, Netherlands, German, Iceland and Italy, to name but twelve.
Here they all are…
John is an award winning professional speaker, trainer and workshop leader. He helps  organisations become more effective using improvisation skills and an uncannily accurate method of reading people. When John is off stage he is usually fly fishing
Heather has worked as a corporate facilitator and roleplay actor with the Garnett Foundation and Capstone international. She has worked with 360 Degree Vision on corporates including verbatim theatre technique and with Tao Leadership on bespoke programs. As an improvisation corporate facilitator, she has designed and delivered a variety of programs from sectors ranging from refugees to footballers to bankers. She has additionally completed training in professional coaching with Cherry Growing, brain-friendly learning with Twenty One leadership, Neurodiversity with exceptional individuals all of which she incorporates into her improv training portfolio. She is also a qualified mental health first aider and holds an up to date DBS check.
Edmund Fargher trained in improv and sketch writing at Hoopla Impro, The Second City, The Upright Citizen's Brigade and the iO Theater, Chicago. He has taught as part of the Maydays around the UK and has performed improv across Europe and the United States. He has a background in filmmaking and broadcasting. His work on film sets and production offices included management of projects and personnel in high pressure environments.
Chris divides his time between teaching & performing improv and delivering creative and marketing content for the international development sector. He has over a decade of experience as a creative facilitator, workshop leader and conference co-ordinator. He specialised particularly in idea generation, teamwork and presentation skills.
Katy has worked with applied improvisation since 2004. She has been a facilitator with critically acclaimed and award-winning improvisational comedy companies such as Second City's Biz Co, Spark Creative, The Maydays, Hoopla and The Improv Place. She is a Fasillytator at Power of Uke. Her clients include The Welcome Trust, Facebook, Google, YouTube and IBM. She delivers training and performances for the corporate and public sector. Katy is a Funny Women Finalist and has delivered presentation training for corporate clients, stand-up comedians and TED speakers.
Jules worked in cultural awareness and language training for many years before he even discovered improvisation. His list of clients is spread across sectors from Google to Unilever, Rosneft to E&Y, running sessions varying from several thousand participants down to just one. He is currently working on a book on the creative process.
As a founding company member, Rebecca has been using improv to help businesses for over 15 years. Prior to and alongside her work with the Maydays she has held multiple management roles in large organisations such as The Co-operative Group, and also in small to medium-sized businesses. Consequently, she has an insider's perspective on issues faced by businesses and organisations as well as their training needs. In a position she held at a large charity she was responsible for capacity building dozens of volunteer groups across the SE and London, honing her understanding of training styles, and making training efficient and effective.
Joe Samuel is a classically trained pianist and violinist having studied at Royal Holloway University.  He has provided musical accompaniment to large-scale conferences and events, facilitated workshops and designed risk-taking workshops using the power of music and singing for business leaders in the UK and worldwide. Joe has also been instrumental in bringing music into the world of corporate training to provide a slick, dynamic environment.
Liz Peters is an international performer, speaker and host with over 20 years of professional stage experience. She has taken applied improvisation into countless organisations, both independently and with The Maydays, Hoopla and The Nursery, and regularly designs and delivers training for team and leadership development programmes. Liz is a certified Embodied Facilitator, coaching professional women on public speaking and charismatic presence, and is the author of 'Own It! How to boss your fears, free your voice and inspire the room'.
Jen is a trainer, facilitator and performer with acclaimed improvisational comedy & theatre companies The Maydays, The Nursery, and Hoopla, working with clients that include GSK, Otsuka Global, Investec, Trinity Mirror Group and Facebook. Prior to this, she has worked for many years in Social Housing. She has over 14 years of experience in improvisation and theatre having trained and performed internationally.
Lloydie James Lloyd has trained in sketch writing with Second City, Chicago and improv at the Upright Citizens Brigade Theatre in New York and the Annoyance Theatre in Chicago. He has taught and performed improv around the UK, Ireland and the United States and has had the enormous fortune to improvise with a number of world renowned names from television, radio and film.  He has a background in broadcasting and communication, having been heard on a variety of radio stations until he moved the other side of the microphone.  A number of well-known UK politicians and broadcasters have benefitted from his communications seminars and one-to-one coaching.
Rhiannon is a corporate facilitator, trainer and performer with acclaimed and respected improvisational comedy/theatre companies The Maydays and Hoopla. Clients include Trinity Mirror Group, Total Media, NHS Collaborate, GSK and Otsuka Global. Rhiannon has over 10 years experience in improvisation, including international training, and has also worked as a senior team leader in many media agencies, giving her the inside track on what makes a great team tick. Rhiannon is a qualified mental health first aider.
Jennifer trained at Bretton Hall and has worked in corporate role-play, corporate facilitation professional performance training and youth facilitation for over ten years, as well as performing. Her improv training includes Vancouver Theatre Sports, Instant Theatre, iO Chicago, Free Association & The Showstoppers. She has performed internationally on tours and at festivals and teaches regularly both in London and online, as well as running The Nursery's Youth Programme. Jennifer also holds Level 3 BSL and works in the D/deaf community as a Personal Assistant.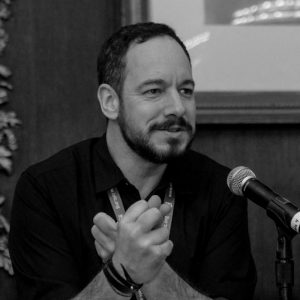 Richard is a non-magical Mayday who was not born with fully-fledged improvisational powers. His background is in education and organisational development. As our head of facilitation, Richard translates organisational needs into exciting business improv programmes, and supports the logistics in the run-up to your event, on the day and in post-delivery audits. In his spare time, he tinkles on a ukulele whether people like it or not.