Business Improv Course: Confidence & communication skills
Stress is often defined as the moment when we realise that our own resources are not sufficient for the current situation.  Improv Training helps people to discover , hone and develop their own resources so that they can meet challenges with more confidence.  It is not easy to practise being in stressful situations and so we often rely on old habits and patterns, delegation, blame, aggression and self criticism in times of crisis.
What we need is more belief in ourselves.  Improv allows us to practise and rehearse being in a stressful situation – where we literally do not know what is coming at us next, but where the actual stakes are low.  With the right expert facilitation, people soon begin to trust themselves, relax, become more aware and calm in the unknown.  This superpower is directly transferable to our personal and working lives, making Improv Training one of the most powerful self-development tools out there.
Improv Training is a very supportive environment.  We may ask people to step outside their comfort zones and experience the thrill of uncertainty, but only when we have gained their trust, and bonded the group together.  It is not a test and you do not need to have any particular skills or be funny, or be good at 'thinking on your feet'.
Once the group and the space feels safe, then we can deliver our carefully selected exercises and training to really work on people's ability to communicate, speak in public and own their space.  There will be some pair work and circle-exercises as well as some delivery to an 'audience' made up of the other participants.
We expect everyone in the room to take part fully and ask that people remain in the moment and receptive to the immersive ideas being presented, rather than sat at the back taking notes.
Who would benefit from this Training Course?
We have often worked with public speakers, presenters and pitching teams on enhancing their confidence and communication skills.  This course is helpful for those who have lost faith in their own abilities, are under-confident when speaking in public or just want to fell more comfortable in their own skin either at work or home.
However, we also recommend this course for those who are already confident when delivering in front of people to inspire and give new ideas about how to present, be flexible and personable and not to get into habits.
We love to surprise ourselves on stage as it keeps us on our toes and in the moment.  While it can look like someone is 'out there' and taking risks, often they are playing a well rehearsed role.  There is no substitute for seeing someone give a speech who is truly responding and reacting to their audience and who can deal with the unexpected heckler or dodgy headset without skipping a beat.  Improv Training inhabits exactly that space and is a very powerful tool in self-confidence.
Some of the key outputs from an improvisation for business training session focussed on confidence and communication skills include:
Stronger relationships with existing colleagues and the discovery of new common ground
Seeing a different side of those you thought you knew well
Expanding the range and depth of conversations and ideas in meetings
More self-confidence in the value of what you are saying
Enhanced social skills and a sense of team collaboration
Being able to hear what colleagues have to say 'with a fresh set of ears'
This session can be delivered from 2-16 hours and to groups of 8-60 people.  We like to work in a quiet room with few distractions and invite everyone in the room to participate for the entire session.  There is no need for note-taking as this is a highly experiential workshop and we will give plenty of chance for feedback and discussion throughout the session.
Face-to-face
Delivered with trainee(s) and facilitator(s) together in the same space
Closed group
Designed just for people from your organisation
Geographical location
Can be delivered worldwide
Contact us to tell us more about your plans and projects. If you have identified a training event already, it would help us to know the date and duration you have in mind, the number of delegates you would like to train and any specific issues you'd like to address. We'll then arrange a Skype or phone call to go through your details and suggest some solutions. If you like what we have to say we'll send you a full written proposal within a couple of days.
Related Course Categories
There are many ways we can focus on specific skills that you want to work on.  We have also designed courses that work for different types of people in business, different sectors, or more generic courses for a broader approach.  Improv training is not a one size fits all solution, it is by its very nature a flexible training tool.  We take pride in the fact that we include elements of improvisation in the way we facilitate, steering a session in a particular direction based on the needs of the group or the individuals.  That means we can deal with the range of personalities and roles that turn up on the day and provide a unique group and atmosphere every time.  These course categories are great starting points to get you thinking about what you want to use Improv Training for, but we love to work with you to design something bespoke for your session that will be unique, memorable and have a lasting effect on the participants.  We also have a range of CPD Certified generic improv courses to choose from.
Here are some of the categories of Improv Courses that you might find useful.
We love when the CEO is in the room participating with everyone else in the company.  It shows honesty, openness and can generate new relationships and interactions effortlessly.  We have also delivered training to a room full of CEOs as a high-powered challenge to shake off old habits and find new ways to respond and create in the moment.  Improv Training provides insights at any level and can help to realign your opinion of those you work with, and yourself.  Find out more about Improv Courses for Executives and CEOs here.
These courses are ideal for those who manage teams of people, project managers and those who have to work in high-powered situations.  Find out how to remain flexible, communicate better and keep your head in a crisis by experiencing the thrill of an Improv Course for Leaders and Managers here…
Choose the level that is right for you and your team.  We can offer short introductions to Business Improv, right through to an integrated training that is ongoing in your business.  These courses come in 2,3,6,12 and 16 hour formats to suit your needs.
Sometimes you need reassurance that what you are investing in is authentic, and will add value to your company.  That is why The Maydays have been accredited by the CPD Certification Service to provide the highest possible standard of Improvisation Training available.  Most of our courses are CPD Accredited.
A great place to start to experience the diverse and fascinating world of Improv Training.  This CPD accredited course has been designed to take even the most diverse and recent group or team and take them through the basic tents of improvisation and the benefits of Improv in the business world.  Find out more about the Introduction to Business Improv course here.
The ability to listen, make meaningful connections to other people, be in the moment but actively lead in a crisis are all skills at the heart to business.  This CPD accredited course delivers the tips of the trade from professional stage improvisers about how to remain calm in the face of uncertainty, rely on your inner resources, and connect to those around you to create stronger relationships and a greater sense of self-esteem.  Find out more about Essential Improv Skills for Business here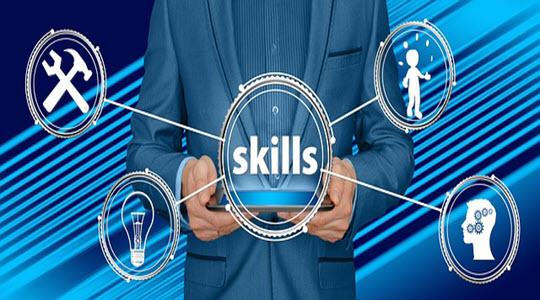 If you are looking to build on other soft skills or improv training you have had in the past then this CPD accredited course will take you through the basics, and on to the rich array of learning, collaboration and celebration that lie at the centre of improv training.  Perfect for working on those soft skills in a fresh way. Find out more about Advanced Improv Skills for Business here
Sometimes you want to throw your team in at the deep end and give them a real challenge.  This CPD accredited course is the highest level challenge we have come up with although we are always happy to push your team even further if you need.  There will be music, performance, even an audience if you need.  We can arrange everything for you so your team just has to show up and experience the thrill of performing in front of their peers, or the general public.  Our first priority is always to make people feel safe and supported so we will guide, help and encourage throughout the process to ensure that everyone, even the introverts, get the opportunity to shine.  Find out more about our challenge course here
Business Improv Games for Communication Skills
Our facilitators will choose from a vast range of exercises, games and techniques to guide your team through to their goals.  To get a sense of what sort of things you may be doing, take a look at our business improv games for communication skills page, or if you want to try some more things out for yourself, then visit our pages on improv games.  There is no substitute for expertise however, we will read the group and the room and vary our sessions depending on how the group is responding on the day to make sure everyone feels safe and leaves with a feeling of having achieved something new and challenging.
Articles exploring the benefits of Improv Training for Business
Courses for Business in Different Locations