Business Improv Course: Group dynamics
This course takes a pragmatic approach to group dynamics and succeeds by taking an experiential route to explore group mind, leading and following, low and high status, body language and tone of voice.
Once participants recognise their dominant behaviours, they are also able to experiment with other types to build cohesion, mutual respect and business empathy with powerfully positive results.
We in The Maydays have learned through many years of experience performing on stage, that you are never on your own.  We like to take risks, make quick decisions and dive into the unknown, in fact we have to do those things to deliver an entertaining improvised show.  We can only succeed if we are playing as part of a team, if we have each other's backs.  If we make a bold 'offer', we need someone else to endorse it in order for it to be believable.
This course goes beyond the 'yes and…' that lies at the heart of Improvisation Training and delves deep into the ways we can support, build trust and develop our own interpersonal skills so that we can perform as part of a team more effectively.  This can mean taking the lead or just watching attentively, ready to spring into action.  We use many well-researched and practised exercises and techniques to get a group working together, playing together and laughing together.  It is a highly immersive and bonding experience and that is why Improv for Group Dynamics is one of our most popular workshops.
We have a range of courses besides this one that work well for team-building which you can see for yourself here.
Who would benefit from this Training Course?
This workshop is a great energiser and bonding experience for existing teams, but is also a great way of allowing new teams to meet, interact and start to build trust in an immersive and fun way.  We do not use the word 'fun' lightly either.  Laughter is a hugely bonding tool that we have access to, and we have the experience to ensure that nobody is being laughed at, but everyone is supported and appreciated equally.
We have worked with high powered executive teams, sales teams, creative teams, interns, graduates, entire offices, conferences, sports teams and media teams to name but a few.  If you have a team that you would like to see behaving more efficiently, respectfully and cohesively then this is the course for you, or get in touch to find out how we can deliver for your specific needs.
People who have taken this course report a very wide range of responses and learning experiences.  Here are some of the most common outcomes.
Empathise with the different roles, responsibilities and leadership positions within your organisation

Find new ways to connect and work with people who display different or opposing behaviours and approaches

Build new common ground through shared experiences

Play, laugh, create, fail and work together.
This session can be delivered from 2-16 hours and to groups of 8-60 people.  We like to work in a quiet room with few distractions and invite everyone in the room to participate for the entire session.  There is no need for note-taking as this is a highly experiential workshop and we will give plenty of chance for feedback and discussion throughout the session.
Face-to-face
Delivered with trainee(s) and facilitator(s) together in the same space
Closed group
Designed just for people from your organisation
Geographical location
Can be delivered worldwide
Contact us to tell us more about your plans and projects. If you have identified a training event already, it would help us to know the date and duration you have in mind, the number of delegates you would like to train and any specific issues you'd like to address. We'll then arrange a Skype or phone call to go through your details and suggest some solutions. If you like what we have to say we'll send you a full written proposal within a couple of days.
Related Course Categories
We have trained ourselves to be flexible, adaptable and remain in the moment when we are on stage, but also when we are facilitating improv workshops.  This can mean that a generic improv course can have long lasting applications across many sectors and skills.  We have put together a few categories of courses from our years of experience so that you can find the Improv Course that is right for you.  If you do not see anything that fits your needs, or you would like some guidance from one of our experts in Business Improv Courses, then get in touch.
These categories are a good way to start to think about what it is you and your group want to work on.  We also have a range of CPD Certified generic improv courses to choose from.
Working as a team is the very heart of business, and the very heart of Improvisation.  On stage there is no room for uncertainty, when it is your turn to step up and deliver then you must do so, and when it is time to take a step back, you must do it with generosity and awareness.  These are the skills that improv brings to the table for team building skills.  Find out more about Improv Courses for Team Building here.
We have delivered ice breakers and direct improv training to full conference rooms.  Improv provides a unique way for delegates to interact, without the awkwardness associated with traditional ice breakers.  We can energise a room, create meaningful new relationships and deliver key insights into habits and patterns, all on a large scale.  The perfect way to kick of a day of activity, listening and learning.  Find out more about Improv for Conferences and Summits here
Choose the level that is right for you and your team.  We can offer short introductions to Business Improv, right through to an integrated training that is ongoing in your business.  These courses come in 2,3,6,12 and 16 hour formats to suit your needs.
Sometimes you need reassurance that what you are investing in is authentic, and will add value to your company.  That is why The Maydays have been accredited by the CPD Certification Service to provide the highest possible standard of Improvisation Training available.  Most of our courses are CPD Accredited.
A great place to start to experience the diverse and fascinating world of Improv Training.  This CPD accredited course has been designed to take even the most diverse and recent group or team and take them through the basic tents of improvisation and the benefits of Improv in the business world.  Find out more about the Introduction to Business Improv course here.
The ability to listen, make meaningful connections to other people, be in the moment but actively lead in a crisis are all skills at the heart to business.  This CPD accredited course delivers the tips of the trade from professional stage improvisers about how to remain calm in the face of uncertainty, rely on your inner resources, and connect to those around you to create stronger relationships and a greater sense of self-esteem.  Find out more about Essential Improv Skills for Business here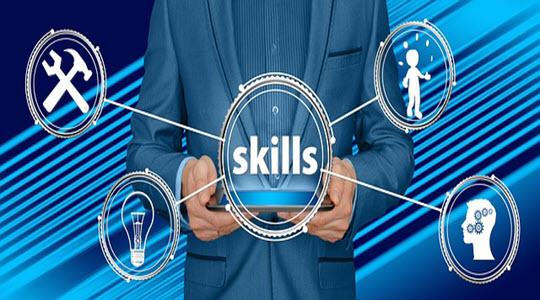 This course will take your team or group on a journey through the accepted tenets of Improv Training, and deliver some key insights into their application for your business.  Where people or product focussed, there is always something new to learn about yourself and the way you behave and perform in your business.  This CPD accredited course is a tried and tested way of going deeper into the soft skills that lie at the heart of a successful business.  Find out more about Advanced Improv Skills for Business here
Sometimes you want to throw your team in at the deep end and give them a real challenge.  This CPD accredited course is the highest level challenge we have come up with although we are always happy to push your team even further if you need.  There will be music, performance, even an audience if you need.  We can arrange everything for you so your team just has to show up and experience the thrill of performing in front of their peers, or the general public.  Our first priority is always to make people feel safe and supported so we will guide, help and encourage throughout the process to ensure that everyone, even the introverts, get the opportunity to shine.  Find out more about our challenge course here
Business Improv Games for Group Dynamics
We use Business Improv Games, exercises and techniques to focus on the soft skills you need to work on.  There are so many ways to approach this and we will always create a bespoke program for you based on your group's needs on the day.  There are however some classic games that just hit the spot every time.  We have written brief descriptions of some of these if you want to have a look at our Business Improv Games Page.  You may find that without an expert facilitator, some of these games lose their 'magic'.  We will use them as part of a series of well-balanced exercises to make people feel safe, empowered and challenged.  Try them out for yourself, and when you need more inspiration then get in touch with us.  Business Improv Games for group dynamics.
Articles exploring the benefits of Improv Training for Business
Courses for Business in Different Locations