Business Improv Course: Productive improvisation for leaders
Who could have anticipated the level of uncertainty currently sweeping through the UK, Europe and the World?
As a Business Leader you're expected to be resilient, carry on undaunted, leading the way, knowing the answers, helping people to cope.
You're also expected to drive profitability and shareholder return on investment, through efficiency with innovation.
So, who can you call when you're low on motivation and creativity, pressed for time and the whole lot is grinding you down?
We've teamed up with productivity giants, Think Productive, to bring you an innovative solution. A resilience and agility toolbox for Leaders, if you will, delivered expertly and exclusively to you and your Management Team. Intrigued?  Read on…
Our half-day* Productive Improvisation for Leaders Programme will take you on a transformational journey.  (*We can make it longer and deeper if you need us to!).
Productive improvisation is our clever blend of two leading management approaches, delivered to you by two of the biggest players in our respective fields.
Think Productive, the masters of stress-busting productivity and innovative, practical Time Management Training have joined forces with us, the UK's foremost improvisation training organisation, The Maydays.  Together, our experts have over 18 years experience in building resilience and agility for business leaders.
What you'll do and learn:
First, Think Productive will share with you the 9 Characteristics of the 

Productivity Ninja

™, inspiring you with specific, practical changes and tactics to boost your resilience and agility, your personal productivity and your well-being.

Then, we, The Maydays will take you to the next level. We will teach you how to improvise. That's right, it's a skill. It's a thing you can get good at.
Leaders need to inspire confidence in those around them.  This requires that you have confidence in yourself.  We have moved away from traditional symbols of confidence – power suits and status symbols, and now have to draw on our own genuine resources to embody leadership.  Confidence is earned through experience, and sometimes this experience can be hard to come by.  Improvisation gives you the playground in which you can find out about yourself, how you respond in different situations and how you rely on other people when you need to.  It allows you to practise listening, being agile and staying in the moment when everything around you is changing.  It allows you to fail, celebrate your failure and fail again without fear of judgement.  Improvisation is an incredibly powerful tool that can actually increase your self-confidence and, as a result, the confidence that others will have in you.
Combine productivity with improvisation and you're in a position to make strong decisions with utter agility.  Thinking productively in the moment.  Being a leader who truly encourages collaboration and an innovative environment open to all ideas, with no egos or fear of failure.
And that's not even the best bit. The best bit is that you'll spend most of the day laughing.  Laughing in the face of uncertainty.
Who would benefit from this Training Course?
This course is for those who really want to super-charge their productivity.  Improv training is a powerful tool on its own, but paired up with Productivity training from the experts it really is a top-end solution suitable for Executives, CEOs, managers, leaders and anyone else who feels they need a helping hand to be more focussed and less stressed.
By the end of the session, delegates will have:
Learned to be more free and less judgemental about themselves and their colleagues
Become more receptive to ideas and calmer in new and unfamiliar situations
Learned practical tips and techniques from Productivity Professionals
This session can be delivered from 2-16 hours and to groups of 8-60 people.  We like to work in a quiet room with few distractions and invite everyone in the room to participate for the entire session.  There is no need for note-taking as this is a highly experiential workshop and we will give plenty of chance for feedback and discussion throughout the session.
Face-to-face
Delivered with trainee(s) and facilitator(s) together in the same space
Closed group
Designed just for people from your organisation
Geographical location
Can be delivered worldwide
Contact us to tell us more about your plans and projects. If you have identified a training event already, it would help us to know the date and duration you have in mind, the number of delegates you would like to train and any specific issues you'd like to address. We'll then arrange a Skype or phone call to go through your details and suggest some solutions. If you like what we have to say we'll send you a full written proposal within a couple of days.
Related Course Categories
There are many ways we can focus on specific skills that you want to work on.  We have also designed courses that work for different types of people in business, different sectors, or more generic courses for a broader approach.  Improv training is not a one size fits all solution, it is by its very nature a flexible training tool.  We take pride in the fact that we include elements of improvisation in the way we facilitate, steering a session in a particular direction based on the needs of the group or the individuals.  That means we can deal with the range of personalities and roles that turn up on the day and provide a unique group and atmosphere every time.  These course categories are great starting points to get you thinking about what you want to use Improv Training for, but we love to work with you to design something bespoke for your session that will be unique, memorable and have a lasting effect on the participants.
For those in positions of high responsibility and authority, it can be hard to relate to the people you manage.  Improv training provides the perfect environment to explore new ways of listening, generating ideas and engendering trust and respect while maintaining authority and inspiring confidence.  Improv courses are a superb way of breaking down existing hierarchies and roles and creating new and memorable ways of interacting.  Whether it is with other high-powered people in your business, or across the whole spectrum of positions, improv training allows you to relax, enjoy yourself and experience something new in a safe environment.  Find out more about Improv Courses for Executives and CEOs here.
We have delivered ice breakers and direct improv training to full conference rooms.  Improv provides a unique way for delegates to interact, without the awkwardness associated with traditional ice breakers.  We can energise a room, create meaningful new relationships and deliver key insights into habits and patterns, all on a large scale.  The perfect way to kick of a day of activity, listening and learning.  Find out more about Improv for Conferences and Summits here.
Choose the level that is right for you and your team.  We can offer short introductions to Business Improv, right through to an integrated training that is ongoing in your business.  These courses come in 2,3,6,12 and 16 hour formats to suit your needs.
Sometimes you need reassurance that what you are investing in is authentic, and will add value to your company.  That is why The Maydays have been accredited by the CPD Certification Service to provide the highest possible standard of Improvisation Training available.  Most of our courses are CPD Accredited.
A great place to start to experience the diverse and fascinating world of Improv Training.  This CPD accredited course has been designed to take even the most diverse and recent group or team and take them through the basic tents of improvisation and the benefits of Improv in the business world.  Find out more about the Introduction to Business Improv course here.
If this is your first time using Improv Training in your business, this is a great place to start.  This CPD accredited course will take you through a finely honed series of exercises, games and skills training to introduce the essential improv skills that apply directly to business.  This course can be tailored to your people if you need to focus on a particular skill, or you can let people find out what resonates with them directly from experiencing Improv Training for the first time.  Find out more about Essential Improv Skills for Business here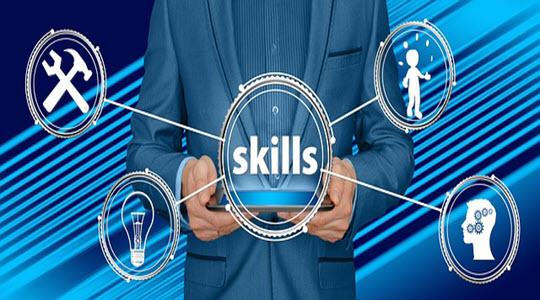 Whether you have tried Improv Training before, or you feel you are ready to jump straight in at a higher level, this CPD accredited course will take you quickly to the heart of Improv for Business and explore ideas of commitment, listening, trust and agility in a safe and vibrant environment.  A perfect challenge for a team or high performing leaders in your company.  Find out more about Advanced Improv Skills for Business here
Sometimes you want to throw your team in at the deep end and give them a real challenge.  This CPD accredited course is the highest level challenge we have come up with although we are always happy to push your team even further if you need.  There will be music, performance, even an audience if you need.  We can arrange everything for you so your team just has to show up and experience the thrill of performing in front of their peers, or the general public.  Our first priority is always to make people feel safe and supported so we will guide, help and encourage throughout the process to ensure that everyone, even the introverts, get the opportunity to shine.  Find out more about our challenge course here
Courses for Business in Different Locations
Articles exploring the benefits of Improv Training for Business