Business Improv Course: Positivity & happiness
It is time to take play seriously. The problem with optimising organisations and the micro processes within them is that we risk eradicating some of the happiness too.
Book The Maydays to provide you with some happiness and positivity, and you'll get more of it than you ever imagined.
We work at a number of levels when we deliver an improvisation session with the pure objective of promoting happiness at work. We ensure everyone is going to laugh a lot but we also work at deeper levels – around self-confidence (particularly for your more introverted members) and in building feelings of togetherness.  We have seen the effects that this can have on people both short and long-term and the increase in well-being that is reported both at work and at home after an Improv Training Course.
If you would like to read more, then we have a blog specifically about well-being at work.
Laughter and play up front, learning and self development underneath.  We do not talk about how to be happy, we demonstrate it.  For us, positivity and connection, letting go and being in the moment, earning and giving trust and support are all direct ways to increase your happiness and that of those you come into contact with.
It's not all loud celebratory whooping either, there will be moments of calm, focussed mindfulness and quiet connection that all lead to a sense of contentment and well-being.  The good news is, we can facilitate it, and you can practise it.  In the same way that simply smiling can lift your mood, putting yourself in a lively, supportive and challenging environment can greatly enhance your happiness.
Who would benefit from this Training Course?
We would all like to be happier.  Improv Training is one of the most direct ways to actively work on being more content, comfortable in your own skin, positive and engaging.  It gives you the chance to inhabit aspects of your personality that usually remain locked up.  Some of these may be cathartic-ally dark, others buoyantly positive, but they are all there and we feel purged and content when we give them some air-time.
By the end of the session, delegates will have experienced:
A break from personal and professional issues, and time out just to relax and let go

The feeling of being a valued member of the group with something to contribute and much to celebrate

About half a day spent laughing. Aching faces the next day is guaranteed.
This session can be delivered from 2-16 hours and to groups of 8-60 people.  We like to work in a quiet room with few distractions and invite everyone in the room to participate for the entire session.  There is no need for note-taking as this is a highly experiential workshop and we will give plenty of chance for feedback and discussion throughout the session.
Face-to-face
Delivered with trainee(s) and facilitator(s) together in the same space
Closed group
Designed just for people from your organisation
Geographical location
Can be delivered worldwide
Contact us to tell us more about your plans and projects. If you have identified a training event already, it would help us to know the date and duration you have in mind, the number of delegates you would like to train and any specific issues you'd like to address. We'll then arrange a Skype or phone call to go through your details and suggest some solutions. If you like what we have to say we'll send you a full written proposal within a couple of days.
Related Course Categories
We have trained ourselves to be flexible, adaptable and remain in the moment when we are on stage, but also when we are facilitating improv workshops.  This can mean that a generic improv course can have long lasting applications across many sectors and skills.  We have put together a few categories of courses from our years of experience so that you can find the Improv Course that is right for you.  These categories are a good way to start to think about what it is you and your group want to work on.  We also have a range of CPD Certified generic improv courses to choose from.
Those at the top have to learn to deal with huge responsibility and accountability.  It is vital they can communicate effectively, delegate and justify their decisions when things don't go as planned.  Improv Training allows you to experience an infinite array of scenarios, emotions and personalities but without the pressure of getting anything wrong.  Just come, be yourself and be in the moment and you will discover resources you never thought you had.  Find out more about Improv Courses for Executives and CEOs here.
The different skills required to be an effective manager are really unique to every individual.  There is no perfect set of attributes or skills that can create a great leader.  Improv Training encourages you to be you by allowing you to explore aspects of your personality you may not be so familiar with.  Being in the moment and responding to unusual and unpredictable situations in a safe space is a great way to shake off old habits and find a renewed self-respect.  Find out more about Improv Courses for Leaders and Managers here
Improv at a conference can be used at the very start of day as an energiser; throughout the day as a way of keeping people focussed and engaged, or at the end of a conference as a celebration of the day.  We can provide short, sharp, attention grabbing games or a fully improvised performance as a treat for your delegates.  Find out more about Improv for Conferences and Summits here
Choose the level that is right for you and your team.  We can offer short introductions to Business Improv, right through to an integrated training that is ongoing in your business.  These courses come in 2,3,6,12 and 16 hour formats to suit your needs.
Sometimes you need reassurance that what you are investing in is authentic, and will add value to your company.  That is why The Maydays have been accredited by the CPD Certification Service to provide the highest possible standard of Improvisation Training available.  Most of our courses are CPD Accredited.
This is your first time using improv training.  You are about to find out the wealth of fresh experiences that improv training can offer.  This CPD accredited course will take participants from the starting position of trepidation through to the all-encompassing affirmation of success.  Success in improv is about taking part and supporting those around you.  Find out more about the Introduction to Business Improv course here.
The ability to listen, make meaningful connections to other people, be in the moment but actively lead in a crisis are all skills at the heart to business.  This CPD accredited course delivers the tips of the trade from professional stage improvisers about how to remain calm in the face of uncertainty, rely on your inner resources, and connect to those around you to create stronger relationships and a greater sense of self-esteem.  Find out more about Essential Improv Skills for Business here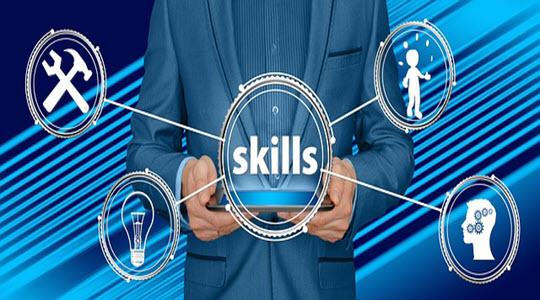 If you are looking to build on other soft skills or improv training you have had in the past then this CPD accredited course will take you through the basics, and on to the rich array of learning, collaboration and celebration that lie at the centre of improv training.  Perfect for working on those soft skills in a fresh way. Find out more about Advanced Improv Skills for Business here
Build a bridge in 30 minutes, create your workplace out of lego, put on a sumo suit and swim with sharks…traditional team building has relied on a group challenge that encourages working together towards a common goal.  The problem is, it allows people to fall into their well-assigned roles and become caricatures of their usual workplace selves.  Improv Training is different.  This CPD accredited course allows people to find, explore and try out new resources and aspects of their personalities that they would not usually be allowed to use.   Find out more about our challenge course here
Business Improv Games for Positivity and Happiness
Our facilitators will choose from a vast range of exercises, games and techniques to guide your team through to their goals.  To get a sense of what sort of things you may be doing, take a look at our business improv games for positivity and happiness page, or if you want to try some more things out for yourself, then visit our pages on improv games.  There is no substitute for expertise however, we will read the group and the room and vary our sessions depending on how the group is responding on the day to make sure everyone feels safe and leaves with a feeling of having achieved something new and challenging.
Articles exploring the benefits of Improv Training for Business
Courses for Business in Different Locations