Business Improv courses for soft skills training
Soft Skills are the qualities that allow us to communicate and interact with other people more effectively.  They include:
Communication
Listening
Flexibility
Creativity
Negotiation
Soft skills are crucial to our interaction with other people.  You may have all the knowledge and expertise in the world, but if you cannot communicate it effectively, or manage people well, you will fall behind the competition.  In the super-connected, tech based communication world we live in, it is more important than ever to make real connections with real people.  We have worked with teams that work remotely, making sure that the precious time they do have together is used as well as possible.  For us that means creating memorable interactions, playing, laughing and learning.  It may be only a day a year that your people get to see each other in person so why waste time with old and tired ice-breakers and awkward exercises when Improv Training can deliver such a rich and diverse experience?
The benefits of our Improv for Soft Skills Courses
Connection is what Improv and Improv Training is centred around.  Learning when and how to lead and follow.  How to listen and be heard, when to take risks and when to be vulnerable.  Some people are naturally better communicators than others, but the good news is that improv can improve our soft skills whoever we are, supporting and encouraging the more introverted, and challenging the super-confident to listen more and be part of a team.
Soft Skills can be difficult to pinpoint and really hone.  Improv Training gives us the opportunity to practise being in certain situations, talking to different types of people and exploring aspects of our own personalities that we can often ignore.  This can all happen in a safe space where you cannot get anything wrong, where the only way to fail is not to join in.
The Maydays Improv for Soft Skills Courses
All of these courses can be requested for us to deliver to your business place, just for you.  We can tailor our improv courses around your needs so you can really hone a particular skill or quality that needs a boost.  We also have some formats that we have specifically designed to target some of the most common soft skills.  Here are our most popular improv for soft skills courses.
If you would like to book on an open course then have a look what we have coming up .
Courses in the UK and Worldwide
Brighton has its own unique arts and cultural scene that has grown with the city for decades.  The Maydays are proud to be part of that heritage, having founded the company here in 2004 and taught, performed and facilitated improv in the city ever since.  Many of our local businesses have experienced improv training for themselves and have found that it fits in with their ethos, their drive for innovation and their respect of the value of human relationships to business.  We can provide all that from our own studio space right by the sea.  Find out more about how you can get world class Business Improv Training in Brighton here…
Improv in London now has a tradition and a unique output both in terms of performance and training.  The Maydays began in Brighton, but many of our members now life and work in London so delivering our world class training in London is easy and convenient for us and hopefully you too.  We have good relationships with many lovely training spaces and also business experts to deliver a diverse training package that suits your needs.  Find out how you can access Business Improv Training in London here…
Wherever you are in the UK, we can come and visit to deliver a business improv course.  We understand that sometimes you do not have the time to get everyone down to London or Brighton, so just let us know where you are and we will work out how to get to you.  We have delivered improv training for businesses from Cornwall to The Highlands of Scotland, Dublin to Newcastle.  Let us know where you are and we will bring the Improv magic to your doorstep.  Find out more about Improv in the UK here…
With communication now being truly global, you need training wherever you are.  Improv Training is about being in the room and responding to people who are standing in front of you.  No phones, no notes, no script, it is distilled interaction and that is partly what makes it so powerful.  We can come to you, wherever you are in the world and deliver our Improv Training for you and your company.  Find out what we offer worldwide here…
The Maydays also offer a wide range of Business Improv Courses for individuals, interns, graduates or cross-hierarchical groups from your business.  Whether you are looking to improve communication throughout your company, or increase workplace happiness, improv has been proven to have deep and lasting effects.  As an award-winning performance company, we can also provide entertainment for a conference in the form of a fully improvised show based around the unique stories of the delegates.  Here are some of the other options that we offer.
Choose the level that is right for you and your team.  We can offer short introductions to Business Improv, right through to an integrated training that is ongoing in your business.
Sometimes you need reassurance that what you are investing in is authentic, and will add value to your company.  That is why The Maydays have been accredited by the CPD Certification Service to provide the highest possible standard of Improvisation Training available.  Most of our courses are CPD Accredited.
If this is your first time using Improv Training in your business, this is a great place to start.  This CPD accredited course will take you through a finely honed series of exercises, games and skills training to introduce the basic improv skills that apply directly to business.  This course can be tailored to your people if you need to focus on a particular skill, or you can let people find out what resonates with them directly from experiencing Improv Training for the first time.  Find out more about the Introduction to Business Improv course here
The ability to listen, make meaningful connections to other people, be in the moment but actively lead in a crisis are all skills at the heart to business.  This CPD accredited course delivers the tips of the trade from professional stage improvisers about how to remain calm in the face of uncertainty, rely on your inner resources, and connect to those around you to create stronger relationships and a greater sense of self-esteem.  Find out more about Essential Improv Skills for Business here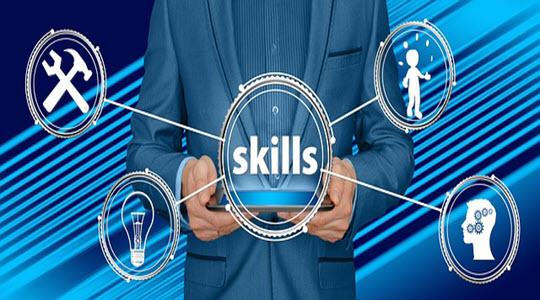 If you are looking to build on other soft skills or improv training you have had in the past then this CPD accredited course will take you through the basics, and on to the rich array of learning, collaboration and celebration that lie at the centre of improv training.  Perfect for working on those soft skills in a fresh way. Find out more about Advanced Improv Skills for Business here
Sometimes you want to throw your team in at the deep end and give them a real challenge.  This is the highest level challenge we have come up with although we are always happy to push your team even further if you need.  There will be music, performance, even an audience if you need.  We can arrange everything for you so your team just has to show up and experience the thrill of performing in front of their peers, or the general public.  Our first priority is always to make people feel safe and supported so we will guide, help and encourage throughout the process to ensure that everyone, even the introverts, get the opportunity to shine.  Find out more about our challenge course here
We use Business Improv Games, exercises and techniques to focus on the soft skills you need to work on.  There are so many ways to approch this and we will always create a bespoke program for you based on your group's needs on the day.  There are however some classic games that just hit the spot every time.  We have written brief descriptions of some of these if you want to have a look at our Business Improv Games Page.  You may find that without an expert facilitator, some of these games lose their 'magic'.  We will use them as part of a series of well-balenced exercises to make people feel safe, empowered and challenged.  Try them out for yourself, and when you need more inspiration then get in touch with us.  Business Improv Games for soft skills.
For a more complete overview of what Business Improv is, or why it may be the perfect training for you and your business, follow one of the links below.
Articles exploring the benefits of Improv Training for Business