by Jenny Rowe.
What a crazy beast Edinburgh is. It doesn't matter how much I prepare for it, I always find my best intentions broken; I struggle to know what day it is, I regularly run out of phone battery – not to mention sleep – and I fail to see most of the shows I plan to see.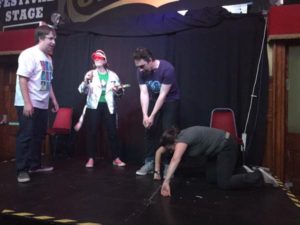 This year wasn't much different. The Maydays performed two shows – 'Oh Boy! The Quantum Leap Show' at The Counting House, courtesy of Laughing Horse Free Festival and Alex Petty, who saved our skins after a tense month of venue uncertainty in June. We were chuffed to be offered the Ballroom, a 140-seater well-known venue in the heart of the Fringe with great technical facilities (compared to the usual 2 lights and PA of most free venues). The only problem? We were on at 12.15pm when most self-respecting niche-sci-fi fans are still tucked up in their beds. Our exit-flyering of similarly geeky evening shows, and the canny use of a Bluetooth speaker with the Quantum Leap theme tune on repeat did yield a reasonable walk up but we soon realised we were destined to smallish but perfectly formed and very appreciative audiences.
Chella Quint [email protected]  Aug 21
The awesome @maydays in 1985 with Rats, Bats and Cats! #Ohboy do you need to see improvised Quantum Leap! #edfringe
Derek Mitchell [email protected]  Aug 18
@ScottBakula you show head to @edfringe and catch the amazing @Maydays Quantum Leap impro show #5starshow #ohboy
Peter McLanachan [email protected]_cardman  Aug 16
Great to see @Maydays #OhBoy again. If you're a Quantum Leap fan, you MUST NOT miss it! #EdFringe #edFringe2015
Ken Gordon [email protected]  Aug 12
Super show from @Maydays today. Get along to see #ohboy the quantum leap show. #edfringe
Talking of perfectly formed and appreciative, I managed to pull myself out of the 'what day is it?' revelry of Edinburgh to co-teach an improvisation workshop with a love bunch of bloggers midway through the month. The event was organised by our lovely friends Propellernet on behalf of Premier Inn.
This was an opportunity for the bloggers, along with their nearest and dearest, to experience the delights of Premier Inn (and if you read the blogs, you'll see there were many, not least the promised 'good night's sleep' but also the hearty breakfast, complete with a new purple sauce!) and for us Maydays to show them an improv-filled good time!
From reading some of the blog posts, I see there was some trepidation among the group and yet, despite a few nervous faces at the start, myself and my colleagues, Jinni Lyons and Yshani Perinpanayagam (on keys) were pleased to find everyone without exception was up for the challenge.
We started with some basics – a name game and some exercises to break the ice and get people thinking more creatively at 10am on a Saturday morning – but we were soon able to move on to more advanced games as the group became more confident. It's really exciting to see how the blogs reflect an understanding of how useful the power of 'yes, and' is in conquering confidence issues and creative blocks! Thanks to this lovely group for throwing caution to the wind and jumping in to the fun!
Back to the Fringe itself, and by the halfway point, The Maydays were performing an additional show, The Maydays and Friends: Unplugged at the newly improv-dedicated Freestival space run by those lovely people at The Nursery Theatre. The venue (at the Thistle Hotel) was a cosy 50-seater that The Nursery set up as a really nice intimate theatre space – perfect for improv at the Fringe. I've lost count of the wonderful, crazy and experimental shows I saw here, but to mention a few:
Jinni Lyons is an Only Child
Guest Speaker (with Mike McShane, Suki Webster, Lee Simpson and Richard Vranch)
Keith
Jon and Sally: Beasts Within
Impromptu Shakespeare (I was in this)
The Maydays Unplugged performed  for the second half of the fringe, occasionally getting in the likes of Dan Attfield  (RH Experience), Liam & Tony (TSOLT), Simon Lucakz (Upstairs Downton) and almost always our trusty honorary Maydays who did 'Oh Boy!' with us, Jonah Fazel and Lewis Harrison-Barker.
Some years at the fringe, I come away poorer, fatter and a little improv-broken. It's hard to do your best work when you're overtired, eating and drinking unhealthily and flyering for the hour and a half before your show. But this year I came away very happy and feeling that my improv  had genuinely improved, not just through the number of shows I've been in, but also the opportunities I've had to perform with some awesome new improvisers, and the number of improv shows I've seen.
I'm still fat and poor though.
Finally, I leave you with my top tips for a smooth Edfringe:
Get some sleep – make sure you have down-time space (keep your living room free of stray sleeping performers)
Flyer with a big grin, be polite, have a sense of humour about it and be prepared to have a bit of a conversation with potential audience members. DON'T arrange your theatre company on the floor wearing all black, looking moody, and then make them all hold flyers. Please.
Play with other improvisers – as many as you can – you'll learn loads
Watch as much improv as you can – good/bad, experienced and non-experienced – you'll learn loads
Batch cook in the first few days and freeze it. I learnt this from Lewis Harrison-Barker
Plan to see some shows you really want to see. Put them in a diary and/or book them. Otherwise you won't go.
Set a weekly budget
Don't drink too much and miss your advance-ticket train home and have to pay an extra £85
Go to Baby Wants Candy (improvised musical from the US) at least once – they are masters of knowing how to REALLY play with each other.
Go to Mary's Milk Bar on the Grass Market and try their small-batch home-made ice cream
Climb Arthur's Seat (this is not rude)
See some things that ARE NOT IMPROV! Those are good too. And you'll be inspired to make something new (I was).
Have something to look forward to AFTER EDINBURGH FRINGE. Book something in beforehand because you'll be too tired or won't be able to afford it afterward.