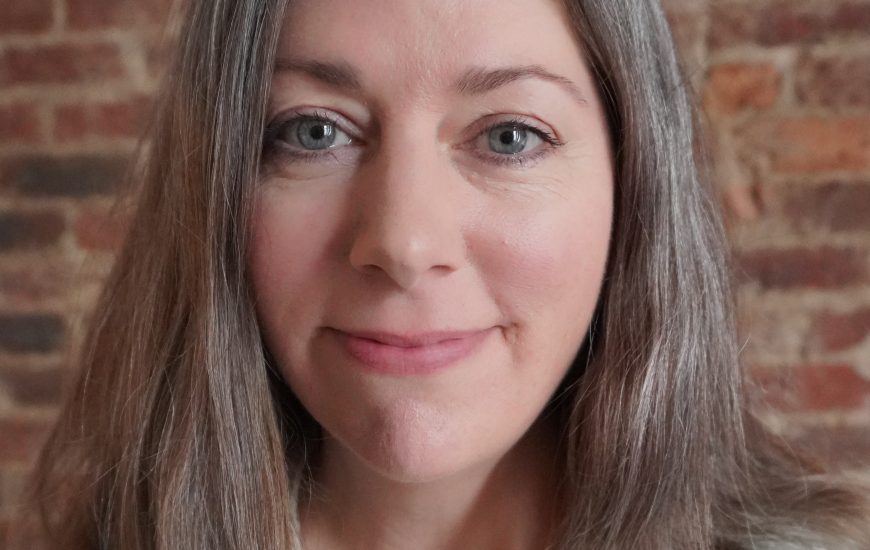 From The Maydays Jenny Haufek
The first time I went to a Mayday's residential was back in 2012. I remember I was taking the Mayday's Longform course in Brighton, but I wanted MORE! It was a huge leap to decide whether or not to spend several days and nights learning and performing improv with strangers. Should I leave my two young children and make stuff up for a few days in the beautiful countryside? I had concerns – I wouldn't know many people and I hadn't done loads of improv. Would I be any good? Should I go? It was one of those moments. A moment in life where you can feel the answer "yes" creeping up inside of you. It gets bigger and bigger until it's a huge, blinking neon sign and you are staring into your own eyeballs, knowing that if you don't say "yes" now, you'll miss out on something BIG.
I did go, and I had a life-changing time. I don't say that lightly. At my first retreat, I met lovely improvisers and teachers. I was pushed and I was vulnerable, I was overwhelmed with laughter and tenderness, and…I was good.  The thing about being good, or worrying if you are or not, is that it's motivated by ego. I was worried about what other people would think of me and my improv. What I soon learned from The Maydays and my other classmates, was that I wasn't going to look good unless I started trying to make others look good. Actually, most of the other improvisers were busy trying to make me look good. At least the ones that I thought were…good. This brings me to Golden Lesson #1 from my First Residential.
      Don't be so stuck on yourself.
It's easy to be so concerned with impressing others that you lose focus on your scene partner, or the scene/show. I was recommended this book by my first Drama teacher Peter Donaldson. The book is split up into Buddhist slogans, which help to train your mind in compassion. It sounds lofty, but it is extremely easy to apply to your everyday life. Slogan 19 is: There's only one point. The author writes, "The whole practice comes down to this: stop being so stuck on yourself. Let go of that and open up. Think of others. Try to do something to make them happy." He may as well have been writing about Improv. Back at the residential, I was learning to think about others more and trying to get untangled from my own head noise. Head noise can be loud! "Why did I just say that?" Or, "where is this scene going? No one is laughing. I better say or do something funny so people will laugh and the scene won't suck." None of this head noise is helping the scene. This brings me to Golden Lesson #2 from my First Residential.
      Look after yourself.
I know. I know. Don't be mad. It sounds like the opposite of number one. But, Mick Napier will back me up here. In this book, he talks about how looking after yourself first in the scene is the best way to help your scene partner. "If you want to support your partner in an improv scene, give them the gift of your choice. I only feel supported by my partners if they make a move, if they do something." In all of my workshops, I was learning to come in with something. Have a point of view or a character. Feel something about what is going on. Then show that to my scene partner. Next, check out what they've just done. Now we have both brought bricks! We can start building the cathedral. I'm ok-you're ok! It was a huge relief, knowing I was co-creating and thus co-responsible. I could do as much as possible to have a clear Point of View for my character and then I would really be showing up for my scene partner.
So, what's Golden Lesson #3? Every good improviser knows comedy comes in threes. #3 is brought to us by Steve Roe of Hoopla Improv Theatre in London! He taught at a Mayday's residential I went to and he reminded me, and everyone around him, to HAVE FUN!
      HAVE FUN
It is your responsibility to make the fun choice. Make the fun choice for yourself. Make the fun choice for your scene partner. For me, most of the times when I'm not making the fun choice, it's because I haven't given myself permission. How many times have you been in a scene and been talking about doing something, and not doing it? "Oh, look! There's a giant rabbit hole in the ground. I wonder where it leads." Jump down the rabbit hole!  Really and metaphorically. I try not to be held back wondering how we will do something on stage, or where it will lead. Everyone knows that the rabbit hole is fun. Get in there.
The Mayday's residential had me thinking Improv was like another language and I understood it and was able to speak it as well. But, the beautiful thing was that the language was ever-growing and I had access to it now. I carried on going to the Mayday's retreats. I've lost track, but I think I've been to around 7. I was at the one where Ben Stephens changed all the words to the song "Lola" by The Kinks, so that it was a song about all the high points of the residential. I was there when Jason Buckley failed continuously to play "Boom Sha Boom", while earnestly trying to regain composure and laughing until we were all crying. I saw the legendary Maydays show where Poseidon rose up from the ocean, I danced under the full moon in a pagan celebration, I danced at 9 am, I washed dishes and I raided the costume closet! All those years and all that fun – I still remember what my buddy Ben and I whispered to one another as we drove home after our first residential together. "Someday, I want to be a Mayday."
So that was then, and this is now. It's 11 years later. These past years I've continued to feed my love of improv. I'm lucky. Brighton has a wonderful Improv scene.  Every month you can go to Scoops , a night of improvised comedy, featuring 4 acts and a jam. You can also go see one of the many improv troupes that have formed in Brighton, like Tea and Toast , Assimilate Improv , Do the Thing or More to Honk With . Just to name a few. Life as an improviser couldn't really get any better for me. Unless. Unless that secret wish I made 11 years ago came true…
 Well, gosh-darnit, it only did exactly that! This past summer, while on vacation with my family in Canada, I got the call. Jenny Rowe from The Maydays asked me if I wanted to put a ring on it! And, by that I mean, make it official and become a Mayday. I had been working (metaphorically dating) them for a while, but now I was going to take it to the next level! Again, one of those moments, the only answer was "yes".  I know better than to miss out on something BIG.
One of my first roles as a Mayday was to go to this year's residential at Ashorne Hill.  I had all of those same feelings rise up in me like before. The head noise was back with a vengeance. "Will I be considered good in my new role? Will the other improvisers I've met over the years consider me a teacher, after years of being a fellow student? Will I be able to do Happily Never After?!?!" Luckily, I had my 3 Golden Lessons.
     

Don't be so stuck on yourself.
My fellow Maydays needed my help! There's so much to do leading up to a residential that there's luckily not too much time to wallow in "will they or won't they like me" mind puzzles. And, once the students start arriving it really becomes my job to make sure they feel supported and happy.
     

Look after yourself.
So, I have 5 classes to teach and 3 shows to do. I don't know exactly how much time I spent planning, but I can say it was possibly too many hours. I know that for every class I taught, I was prepared. I really looked after myself! I knew what I wanted to achieve and I felt about as prepared as you can going into a class where everything you will be doing is improvised. Luckily, somewhere during that first class, I also realised something important. The reason you look after yourself is to help your scene partner, or in this case, my students. Oh, yeah! Rule #1. It's all about them! Each wonderful class I had this year was wonderful because of the students who attended. Chris Mead said something about the development of improv teaching moving from "I want my students to think I'm a good teacher" to "I want my students to think they're good improvisers." I remembered to bring the brick, and not build the whole damn cathedral by myself. The workshops at the residential are collaborative. The students are as responsible as the teacher in deciding where we end up. It's like a well-executed scene. On top of preparation, I also went to bed early-ish each night. I was tempted to stay up and burn the midnight oil talking with friends about improv, but I tucked myself up and got sleep.
HAVE FUN
Last, but definitely not least. Don't forget why you do this improv in the first place! It can be difficult when you start earning money doing what you love. You can start equating it with your self-worth and muddle it up with the drudge of responsibility and work. The residential was more fun than I had even hoped. The Maydays were as supportive and welcoming as Amy Poehler in an ASSSSCAT show. The students who attended treated me like a real Mayday! Because, I was!
At the recent residential, I left the jam on the Saturday night, after performing a dark and twisted Happily Never After. Lovely students had just finished bravely performing in front of one another. I snuck off toward my room for the night, saying goodnight to the people filtering into the bar to have one of many more conversations about improv. I felt a deep gratitude that is similar to the feeling you get when you make a bold move in a scene and everyone steps out immediately to back you up. As I walked into my room and threw my bag on the bed, finally exhaling after an improv-packed day, I found myself whispering, "I love my life!" 
Catch our newest Mayday, Jenny Haufek in an upcoming Maydays show or join her in the classroom over at AndAlso Improv where she teaches regularly with fellow Maydays.