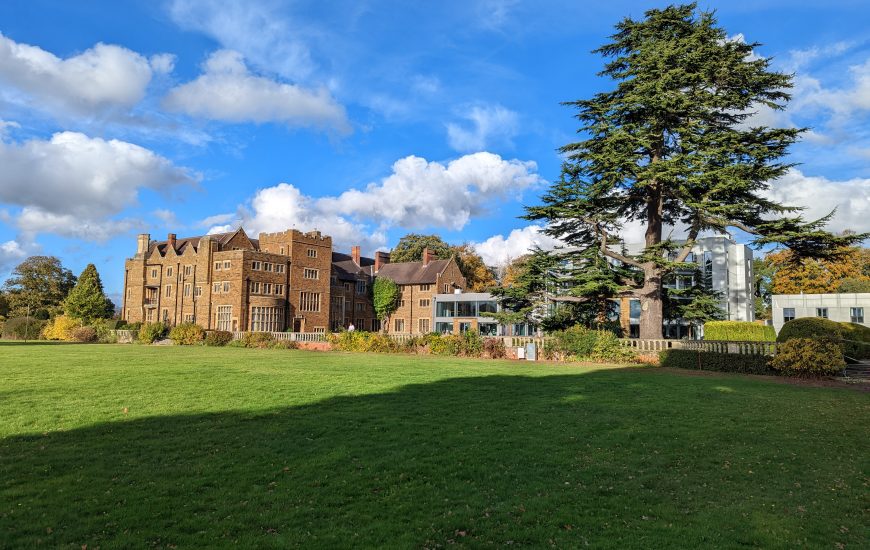 We have been running The Maydays Improv Retreat for well over a decade.  In fact, nobody can say for sure which iteration of The Retreat this year's will be but it is at least the 15th.  Some say we have been calling it the 15th for around three years now.
What we do know is that it is the third year in a row we are running The Retreat from Ashorne Hill, a stunning manor with a contempory twist set in the gorgeous Countryside near Leamington Spa.  It was a huge change for us to move from our previous venue and as always it has been a learning experience.  We have tried to take on board as much feedback from participants as we can and as a result we have put in place some new timings and logistics that we think will really help your experience with us at Ashorne Hill.
Here are 7 things we are excited about for this year's Maydays Improv Retreat:
1. We have created more time.
Yes, we have manipulated the rotation of the earth to create longer days with more time to do the stuff we want to do each day.  Okay perhaps not, but one of the most consistent pieces of feedback we received was that there was not enough time to mingle, go for a walk and even eat before dashing off to the next class.  After a lot of juggling and negotiating we feel we have hit a really nice timetable for you and us that allows for a little more time for yourself, or that extended conversation on the patio.  Here is what your days will look like now.
Friday/Saturday
7-8:30am – Breakfast
9am – Group warmups
9:30 – Morning class 1
11am – Tea / coffee break
11:20 – Morning class 2
12:50 – Lunch
3pm – Afternoon class
6pm – Social / relaxation time
6:30pm – Dinner
8pm – Maydays shows and student jams
10pm – Social / relaxation time
The main difference, for those who have not attended before, is that we now have over 2 hours for lunch and more time between dinner and the evening activities.  How did we do this?  Well that brings us to number 2…
2. There is a double length afternoon class.
90 minutes is great for trying something out, singing a bunch of group songs, trying a load of scenes or honing some skills, however we had many people say that it just is not long enough to really get into something like learning a new form or getting in enough reps.  We now have a lovely 3 hour class in the afternoons on Friday and Saturday so you can really settle in and get more chances to try things out.  This is in the place of two shorter classes before so should make things feel a little less hectic and give more time in between classes to have that power nap.
3. You sign up for all your classes online before you arrive.
As those of you who have been attending our Retreats for many years will know, we have evolved our class sign up system over the years.  We realise that there is no perfect system and there will be some people who may be disappointed  that they could not get into the class they wanted but here is a little bit of history of our sign up system…
The Evolution of the Sign up system…
Classes were announced at the start of the day. Nobody signed up for anything, they just showed up to whatever class they wanted to at the time.
Classes announced the night before, still just show up for whatever you like.
Classes announced the night before. Sign up sheets on the floor in the morning.  The evolution of THE QUEUE.
Classes announced the night before. Sign up sheets on the walls. 10 people allowed in at a time. THE QUEUE became sentient.
Classes added to a bespoke sign up system online.  You would add your weighted choices and the system allocated accordingly.
Class bookings online in advance when schedule released.
Nowadays, classes announced a couple of weeks in advance and signed up for online.  No queue, no sharpies on the wall.  Relax.
4. All the check in admin done straight away.
Previously at Ashorne Hill you would check in to the venue, possibly find your room, wander down to find us at the other end of the building and then join the rather haphazard queue to have us take your photo and welcome you.  This year we are hoping to make this process much more efficient for you.  We will be waiting in the Great Hall to greet you immediately after you have checked in with the venue.  That means you can get all your welcome admin done and go find a friend or a quiet spot to relax.
5. Talking of The Great Hall…
One of the most stunning features of the house is The Great Hall but we rarely get a chance to use it as our classes happen mainly in the conference centre end of the site.  This year we are excited to announce that on Saturday night the evening entertainment will be in the Great Hall and The Maydays will be putting on a show for you there.  Those of you who have been before may be able to guess which show this may be but if you don't know, just find yourself a comfortable seat, admire the fireplace and oak panelling and relax while we entertain you.
6. Morning warm ups
They are back, with the option of a quiter warm up space for those who prefer that.  We just thought it is lovely to get people together before we start the day's classes to do some limbering up, passing practise, scales or stretches depending on what suits you to get motivated for the day.  Warm ups will be run by the facilitators so you just get to turn up and play.
7. Guest teacher
We had the wonderful Fred and Andel teaching with us last year and had glowing reports of their classes and the opportunities that gave you to work with different International teachers.  We are very excited this year to announce that Felipe Ortiz will be joining us from Colombia.  We have been lucky enough to work with Felipe for many years now and we are sure that you will want to discover for yourselves the experience and magic he brings to a workshop and a show.
As this goes live there are still a very few places left for you to grab and join us in October. We would love to see you there and hear your feedback so we can keep improving the experience for you for another decade.