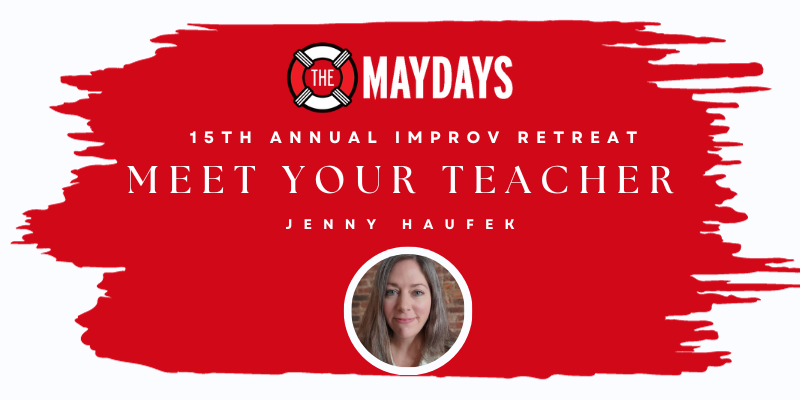 Our October Improv Retreat is nearly HERE! Meet The Teachers – up next, our smashing Jenny Haufek!
Is there a particular part of the retreat that you're most looking forward to?
I'm looking forward to those morning group warm-ups. I love the energy of knowing you have a whole day of improvising before you. Everyone is excited to learn new skills and be a part of the collaborative creation. It's a group giddiness before something really special is about to begin.
For someone who has never been before & is tempted to join us in October, but is feeling a little nervous to push that Book Now button, what advice would you give?
I remember feeling that way before I came to my first Maydays residential about 10 years ago. I can say from experience, I'm so grateful I took the leap. I've met amazing lifelong friends and created unique memories. It feels tricky to step out of our comfort zone, but that's where remarkable things happen. Plus, your teachers will be there to support you along with the amazing classmates you'll meet. Improv naturally creates a supportive atmosphere.
We offer the Jason Chin Scholarship each year, why's it important? 
The Jason Chin Scholarship is a wonderful legacy. It is designed to help spread the love of improv. If you are someone who feels they can facilitate the spread of improv to places it is needed,  we need you! Improv needs you!
For those returning to the retreat for another 3-days of joy, what can they expect from our 15th residential?
The opportunity to take some longer workshops, so that they can really soak in new ideas and concepts. Also, a bit more time to spend in between workshops. Time to use for resting, speaking with fellow participants or exploring the lovely grounds. 
What's one of the funniest moments from previous years for you?
Watching Jason try and play the hand-clapping game "Boom Sha Boom" and fail gloriously. Also, being huddled up hiding with Jessie, trying to avoid being discovered by a giant improvised zombie. 
What's one of the most magical moments from previous years?
Watching a beautifully, truthful improvised Sondheim song about a red felt pen. The song ended up being about how relationships change between parents and children as they grow older. It was incredibly powerful and there wasn't a dry eye in the audience. 
Sum up The Maydays Improv Retreat in a little one-liner
Powerful, heart-expanding creativity with a generous sprinkling of laughter.
To join us at this year's Improv Retreat, grab one of the last spots here  – we can't wait to meet you, see you again and most of all play!